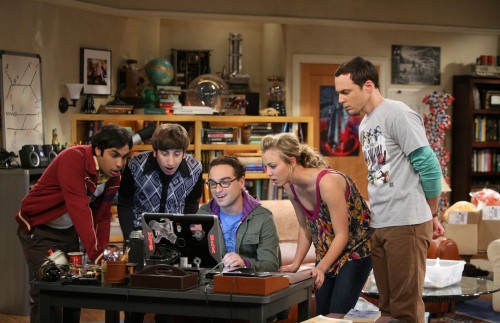 I was looking through my journal, and I was surprised to realize that it was exactly one year ago today that I began watching The Big Bang Theory. The mixture of intelligent insults, social awkwardness, and geeky pop culture references, combined with a huge helping of humor, made me fall in love with the show almost immediately.
The show did have two drawbacks typical of half-hour comedies – a laugh track and crass humor at times. I also wasn't familiar with any of the main actors (I realized later that Howard also played Moist on Dr. Horrible's Sing-Along Blog). But I loved the band of misfit guys, and how Penny gradually became an indispensable part of their group.
Out of all the comedies I watch, The Big Bang Theory makes me laugh the most. From Koothrappali's facial expressions to Sheldon's take on social norms, the show keeps me in stitches constantly. It's also very quotable:
Wolowitz: This is the worst cobbler I've ever eaten. It tastes like it's made of actual ground-up shoemaker.
The relationships between the characters are also awesome. Sheldon and Penny's parent-child dynamic is always humorous, and Raj and Howard are hilarious when they're acting like an old married couple. And you know Leonard and Penny will eventually end up together, despite all the bumps in their relationship.
The current obstacle, Priya, would be really annoying if you couldn't see the blaring signs that her relationship with Leonard is only temporary. The one nice thing she's brought to the show is the creation of the "Hate Priya group" – aka Penny, Bernadette, and Amy. The three of them hanging out together is hilarious. It was made even more fun when Sheldon joined the group in last night's episode, "The Agreement Dissection."
Another awesome aspect of the show are the geeky guest stars. From Sheldon's nemesis Wil Wheaton to Katee Sackhoff (Battlestar Galactica), Eliza Dushku (Buffy the Vampire Slayer, Angel, and Dollhouse), and Summer Glau (Firefly and The Cape), their appearances only heighten the geek subculture of which The Big Bang Theory is a proud member.
And it was this show that caused me to fully embrace my inner geek. To prove it, whenever I get a text message, my cell phone now chimes with Sheldon's signature "gotcha" phrase: "Bazinga!"
Related Posts :