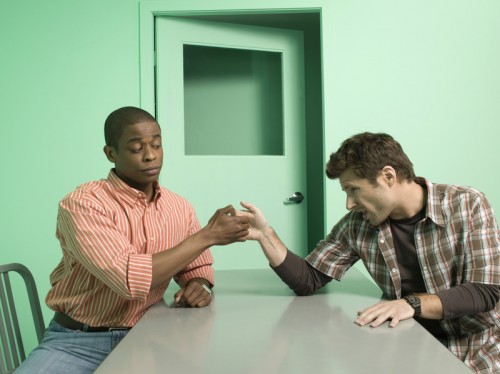 This giveaway is over – check out my latest giveaway here!
May the best commenter win.
But first things first. The winner of my September giveaway was Ruth Anderson! She receives her choice of a Castle Season One DVD set or an Amazon gift card.
For October, I'm giving away (in case you haven't already guessed) a season of Psych on DVD!
Psych is a humorous crime show about Shawn Spencer (James Roday), who uses his hyper-observant skills to pretend he's psychic. Teaming up with his best friend since childhood, Gus (Dulé Hill), the two help solve crimes for the Santa Barbara police department, working with (or hindering) Detectives Carlton Lassiter (Timothy Omundson) and Juliet O'Hara (Maggie Lawson). Chief Vick (Kirsten Nelson) oversees the department. Shawn's dad, Henry (Corbin Bernsen), is a former cop who trained Shawn to be observant, and often gets pulled into Shawn's shenanigans.
Which season of Psych is up for grabs? Any of them! This giveaway is WINNER'S CHOICE! Want to start from the beginning with season one? Snag the newest season five? Fill in the season three you never got around to buying? You pick! And if for some reason (like already owning all five seasons) you'd rather have something else, you can select a $15 Amazon gift card instead.
Season six of Psych begins October 12th on USA Network!
To enter the giveaway:
Leave a comment on any blog post on this website. Your comment should add to the discussion (at least several sentences is good), and be relevant to the post's subject. For example, you can comment on this post about what you love about Psych, what sort of giveaways you'd enjoy in the future, or what you think will happen in the season premiere. Any posts flagged as spam will not qualify (though I plan to scan through them to make sure all real comments get through). Every post you leave a comment on will count as one entry. If you leave relevant comments on 50 posts, you will get 50 entries.
Tweeting about the contest with a link back to this page will give you 5 extra entries the first time you tweet, and 1 extra entry per day for any tweets after that.
Linking to this contest on your blog, Facebook, or Google+ will give you 10 extra entries the first time, and 1 extra entry per day after that.
If you have other ideas for promoting this giveaway, feel free to use them, and I'll award entries accordingly. The more creative/effecting the promotion, the more entries, you'll receive!
To receive your additional entries for promoting this contest, email me at katie at tvbreakroom dot com to let me know what promotion you did.
The Rules:
Contest begins October 1, 2011 at 12:01AM EDT and ends October 31, 2011, at 11:59PM EDT. All entries received outside that time period are invalid.
Winner will be chosen at random from all eligible entries received.
Open to everyone 16 or older with a valid email and mailing address. A winner residing outside the US may have to pay an additional fee for shipping. (Feel free to select an e-gift card instead!)
Winner must provide a way to contact (email or website with some means of contact) and respond to winning notification within 3 days or prize may be awarded to someone else.
What counts as a relevant comment will be at my sole discretion. Comments should be made in English. You may leave as many comments per day as you wish, but only one comment per blog post will be counted as an entry for the contest.
These rules may change at my discretion.
Related Posts :