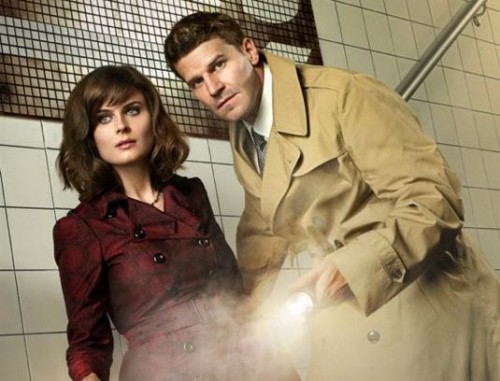 This giveaway is over – check out my latest giveaway here!
This month, I'm giving away a season of Bones! Winner will receive his or her choice of either a season DVD set of the show (any season from 1 to 6) or a $15 Amazon gift card! See rules below for how to enter by leaving comments, sharing on Facebook, linking on Twitter, and more!
I discovered Bones less than 7 months ago, but it quickly grew to be one of my favorite shows. I caught up on the first 6 seasons perhaps a little too quickly (watching every episode between April 19 and July 19, 2011), so I joined the other fans in waiting months for the season 7 premiere. But now the long wait is over, since Bones returns tomorrow!
Bones is what happens when an FBI agent (David Boreanaz from Buffy the Vampire Slayer and Angel) who relies on his gut teams up with a forensic anthropologist (Emily Deschanel) who prefers science and rational thinking. Agent Seeley Booth dubs Dr. Temperance Brennan "Bones," partly because of her ability to glean clues from a victim's skeleton. Assisting Brennan are Dr. Jack Hodgins (T. J. Thyne), Angela Montenegro (Michaela Conlin), Dr. Camille Saroyan (Tamara Taylor), Dr. Lance Sweets (John Francis Daley), and a variety of interns.
Bones season 7 premieres November 3rd, 2011 at 9PM EST/10 Central on Fox.
The winner of last month's Psych giveaway was Esther Kim! She chose the Psych Season 2 DVD set as her prize.
To enter this month's giveaway:
Leave a comment on any blog post on this website. Your comment should add to the discussion (at least several sentences is good), and be relevant to the post's subject. For example, you can comment on this post about what you love about Bones, what sort of giveaways you'd enjoy in the future, or what you think will happen in the season premiere. Any posts flagged as spam will not qualify (though I plan to scan through them to make sure all real comments get through). Every post you leave a comment on will count as one entry. If you leave relevant comments on 50 posts, you will get 50 entries.
Tweeting about the contest with a link back to this page will give you 5 extra entries the first time you tweet, and 1 extra entry per day for any tweets after that.
Linking to this contest on your blog, Facebook, or Google+ will give you 10 extra entries the first time, and 1 extra entry per day after that.
If you have other ideas for promoting this giveaway, feel free to use them, and I'll award entries accordingly. The more creative/effecting the promotion, the more entries, you'll receive!
To receive your additional entries for promoting this contest, email me at katie at tvbreakroom dot com to let me know what promotion you did.
The Rules:
Contest begins November 1, 2011 at 12:01AM EDT and ends November 30, 2011, at 11:59PM EDT. All entries received outside that time period are invalid.
Winner will be chosen at random (using Random.org) from all eligible entries received.
Open to everyone 16 or older with a valid email and mailing address. A winner residing outside the US may have to pay an additional fee for shipping. (Feel free to select an e-gift card instead!)
Winner must provide a way to contact (email or website with some means of contact) and respond to winning notification within 3 days or prize may be awarded to someone else.
What counts as a relevant comment will be at my sole discretion. Comments should be made in English. You may leave as many comments per day as you wish, but only one comment per blog post will be counted as an entry for the contest.
These rules may change at my discretion.
Related Posts :