TV Olympics: Favorite Dual Role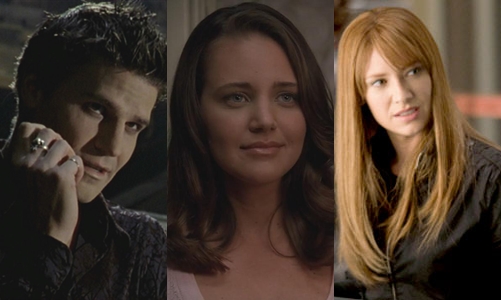 This round of the TV Olympics, we're looking at dual roles in TV! Whether it's distinct personae within the same being, or entirely different people, both are portrayed by the same actor for a number of episodes. Whether twins, clones, alternate dimensions, artificial memories, or hostile takeovers, these roles require excellent acting to pull off. Which are your favorites?
I know there are several great dual roles missing from this poll (seems to be a lack of space-set shows) – please let me know which ones in the comments! They should all be from live-action, scripted shows, and the dual role should be in at least several episodes. This shouldn't be a temporary switched-body thing, where one actor plays a role typically portrayed by another actor – we'll be doing that poll tomorrow!
This poll will be open for one week, and you can choose up to 3 options. Please spread the word so your favorites will win medals, and be sure to vote in all our current Olympic polls!
What's your favorite dual role? (Choose up to 3!)
Angel/Angelus (David Boreanaz) - Buffy the Vampire Slayer and Angel (43%, 50 Votes)
Willow/Vampire Willow (Alyson Hannigan) - Buffy the Vampire Slayer (29%, 34 Votes)
Snow White/Mary Margaret (Ginnifer Goodwin) - Once Upon a Time (27%, 32 Votes)
Olivia/Fauxlivia (Anna Torv) - Fringe (26%, 31 Votes)
Fred/Illyria (Amy Acker) - Angel (26%, 30 Votes)
Elena/Katherine (Nina Dobrev) - The Vampire Diaries (18%, 21 Votes)
Buffy/Buffybot/The First (Sarah Michelle Gellar) - Buffy the Vampire Slayer (16%, 19 Votes)
Charming/David (Josh Dallas) - Once Upon a Time (15%, 17 Votes)
Bridget/Siobhan (Sarah Michelle Gellar) - Ringer (12%, 14 Votes)
Clark Kent/Kal-El (Tom Welling) - Smallville (11%, 13 Votes)
Mellie/November/Madeline (Miracle Laurie) - Dollhouse (9%, 10 Votes)
Tara/T/Buck/Alice/Gimme (Toni Collette) - United States of Tara (4%, 5 Votes)
Total Voters: 117

Loading ...
Related Posts :