Monday Madness: Favorite Brilliant Yet Crazy Characters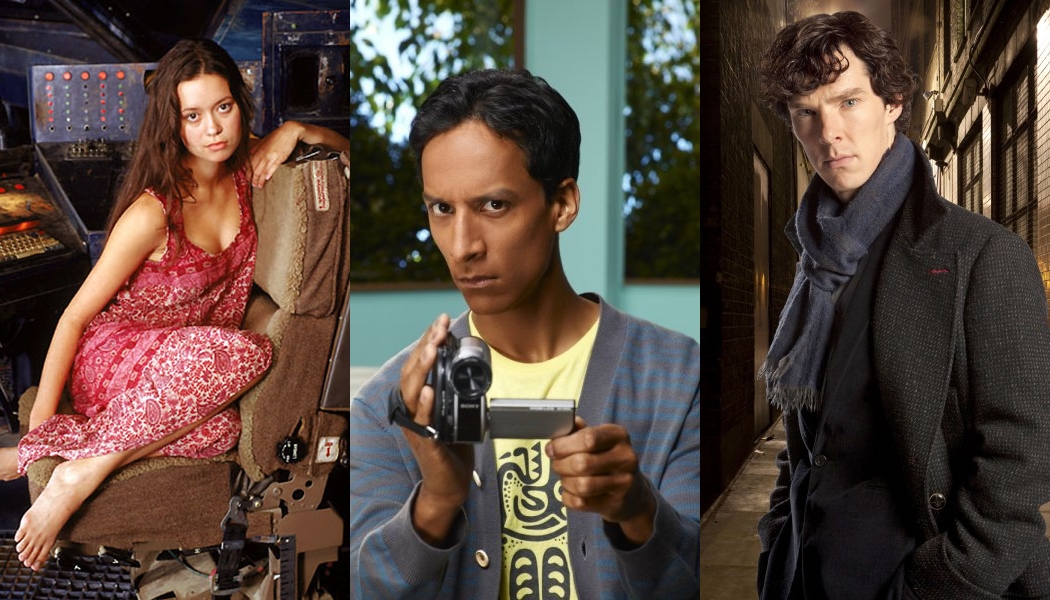 This Monday Madness, in honor of TNT's new show, Perception (which premieres Monday, July 9th, at 10/9c), we're looking at TV's brilliant yet crazy characters. Perception centers around a schizophrenic neuroscientist (Eric McCormack) who works with FBI Agent Kate Moretti (Rachel Lee Cook) to solve complex criminal cases. Perception also stars Arjay Smith and Kelly Rowan, with special appearances by Levar Burton.
For the purposes of this poll, I'm defining "crazy" as anywhere from clinically insane to mild disorders to kind of quirky. "Brilliant" ranges anywhere from off-the-charts IQ to uniquely skilled in a certain area (though most lean toward high IQ).
This poll will be open for one week, and you can choose up to 10 of your favorite smart, zany characters. Be sure to spread the word so your favorites will make it into the top 10! Fans have used Twitter, Facebook, Tumblr, forums, Reddit, blogs, and chatboxes to get the word out about past polls. Get creative!
Even though there are 20-some options on this list, I know there are brilliant-crazy characters I left out! You can nominate ones I missed in the comments until Thursday night, and I may add them to the poll (from live-action scripted shows only, please, and avoid villains unless they're a major part of the show).
Want more of a say in who makes it onto the poll each week? Be sure to follow me on Twitter or like TV Breakroom on Facebook, since I usually ask for nominations for the next Monday Madness the weekend before the new poll. Please help out with nominations! There are only so many shows I can watch personally, so I'm counting on you to fill me in!
Without further ado, here's the poll for this week's Monday Madness! Voting ends around 1AM July 9th.
Who's your favorite brilliant but crazy character? (Choose up to 10)
River Tam (Summer Glau) - Firefly (48%, 1,291 Votes)
Castiel (Misha Collins) - Supernatural (34%, 916 Votes)
Sherlock Holmes (Benedict Cumberbatch) - Sherlock (20%, 549 Votes)
Walter Sherman (Geoff Stults) - The Finder (17%, 456 Votes)
Sheldon Cooper (Jim Parsons) - The Big Bang Theory (15%, 411 Votes)
The Doctor (various) - Doctor Who (15%, 402 Votes)
Abby Sciuto (Pauley Perrette) - NCIS (12%, 318 Votes)
Gregory House (Hugh Laurie) - House (12%, 317 Votes)
Parker (Beth Riesgraf) - Leverage (10%, 259 Votes)
Shawn Spencer (James Roday) - Psych (9%, 244 Votes)
Abed Nadir (Danny Pudi) - Community (9%, 234 Votes)
Zack Addy (Eric Mulligan) - Bones (8%, 220 Votes)
Dexter Morgan (Michael C. Hall) - Dexter (8%, 214 Votes)
Walter Bishop (John Noble) - Fringe (8%, 210 Votes)
Adrian Monk (Tony Shalhoub) - Monk (7%, 192 Votes)
Amy Farrah Fowler (Mayim Bialik) - The Big Bang Theory (7%, 188 Votes)
Mozzie (Willie Garson) - White Collar (7%, 185 Votes)
Fred Burkle (Amy Acker) - Angel (7%, 181 Votes)
Claudia Donovan (Allison Scagliotti) - Warehouse 13 (5%, 134 Votes)
Topher Brink (Fran Kranz) - Dollhouse (5%, 132 Votes)
Chuck Bartowski (Zachary Levi) - Chuck (5%, 127 Votes)
Murdoch (Dwight Schultz) - The A-Team (5%, 125 Votes)
Fiona Glenanne (Gabrielle Anwar) - Burn Notice (5%, 123 Votes)
Cal Lightman (Tim Roth) - Lie to Me (4%, 108 Votes)
Dwight Schrute (Rainn Wilson) - The Office (3%, 94 Votes)
Gary Bell (Ryan Cartwright) - Alphas (3%, 86 Votes)
Daisy Wick (Carla Gallo) - Bones (3%, 83 Votes)
Gaius Baltar (James Callis) - Battlestar Galactica (3%, 79 Votes)
Carrie Mathison (Claire Danes) - Homeland (2%, 42 Votes)
Seymour Birkhoff (Aaron Stanford) - Nikita (1%, 39 Votes)
Robert Goren (Vincent D'Onofrio) - Law & Order: Criminal Intent (1%, 34 Votes)
Billy Chenowith (Jeremy Sisto) - Six Feet Under (1%, 15 Votes)
Jeffrey Geiger (Mandy Patinkin) - Chicago Hope (1%, 14 Votes)
Tony Hill (Robson Green) - Wire in the Blood (0%, 13 Votes)
Total Voters: 2,717

Loading ...
Related Posts :