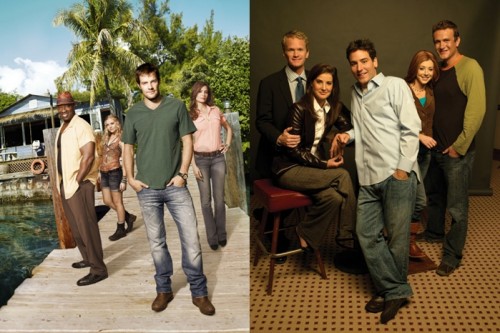 Struggling freshman show The Finder (which will likely be canceled if the Friday factor doesn't come into play) beat the steady Blue Bloods, and veteran How I Met You Mother passed up its Monday night companion, 2 Broke Girls.
The Finder – Walter Sherman is an Iraq War vet who suffered brain damage in an IED explosion, which triggered the ability to "find" things: he sees connections between seemingly unrelated events, objects or people that other investigators would miss. Walter is assisted by his "legal adviser" and bar owner Leo Knox, US Deputy Marshal Isabel Zambada, and teen parolee and thief Willa Monday, who is serving her probation with the team.
How I Met Your Mother is about a man in the year 2030 who begins telling his kids about how he met his wife via flashbacks from the future. The story starts in the year 2005, when then twenty-seven year old architect Ted Mosby was spurred on to want to get married after lawyer Marshall Eriksen and kindergarten teacher Lily Aldrin, his best friends, got engaged. Ted's new quest in life was much to the dismay of his womanizing friend, Barney Stinson. But soon after Marshall and Lily's engagement, Ted believed that his life mate was going to be news reporter and aspiring news anchor Robin Scherbatsky, who, despite having had a romantic relationship with her after this time, ended up being who the kids know as their "Aunt" Robin.
Which motley crew gets your vote? Let me know in the comments!
Update: though tied below, a vote on the main post gave HIMYM the win! Keep voting here!
Related Posts :