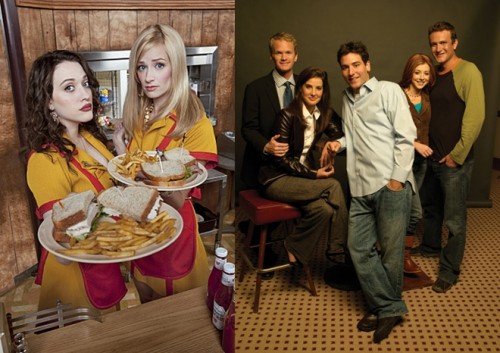 2 Broke Girls – Set in Brooklyn, the series chronicles the lives of two waitresses in their early twenties—Max, who comes from a poor working-class family, and Caroline, who was born rich but is now disgraced and penniless due to her father getting caught operating a Ponzi scheme—working together at a Brooklyn restaurant. The two become friends and build toward their dream of one day opening a cupcake shop.
How I Met Your Mother is about a man in the year 2030 who begins telling his kids about how he met his wife via flashbacks from the future. The story starts in the year 2005, when then twenty-seven year old architect Ted Mosby was spurred on to want to get married after lawyer Marshall Eriksen and kindergarten teacher Lily Aldrin, his best friends, got engaged. Ted's new quest in life was much to the dismay of his womanizing friend, Barney Stinson. But soon after Marshall and Lily's engagement, Ted believed that his life mate was going to be news reporter and aspiring news anchor Robin Scherbatsky, who, despite having had a romantic relationship with her after this time, ended up being who the kids know as their "Aunt" Robin.
After running the shows through a randomizer, I was surprised to find out that these two Monday night comedies were competing against each other in the first round! Which should make it to the next?
Related Posts :