Favorite TV Show We Said Farewell to in 2012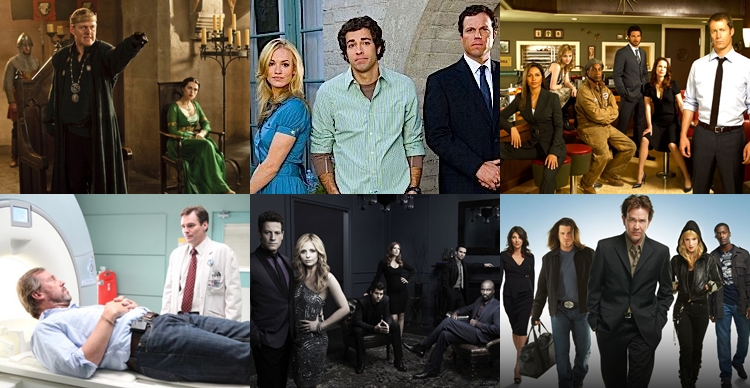 No, we didn't get the end of the world in 2012, but it was the end for several story worlds we've grown to love. Which of these dearly departed shows are your favorites?
Fans have used Twitter, Facebook, Tumblr, forums, Reddit, Pinterest, blogs, and chatboxes to get the word out about past polls. Our toolbar at the bottom of the page has lots of quick links to help you share this post, or you can mouse over the image above!
I know I'm missing a few shows that ended in 2012, so feel free to nominate other shows on our Facebook page, tweeting me at @waterfallbooks, or by leaving a comment below. (Be sure to stick with live-action, scripted shows.) Also, there are several shows that have been canceled, but will air their final episodes in 2013, and are therefore not included below (Fringe, Last Resort, The Office, etc.).
Without further ado, vote for up to five of the shows below! Poll will close Monday night, December 31st, so spread the word quickly!
What's your favorite show we said farewell to in 2012? (Choose up to 5!)
Leverage (78%, 556 Votes)
Merlin (16%, 117 Votes)
Chuck (13%, 96 Votes)
House (11%, 77 Votes)
Eureka (10%, 71 Votes)
The Finder (7%, 48 Votes)
The Closer (6%, 45 Votes)
Fairly Legal (4%, 28 Votes)
Common Law (3%, 25 Votes)
The Secret Circle (3%, 19 Votes)
Ringer (2%, 17 Votes)
Gossip Girl (2%, 15 Votes)
Awake (2%, 13 Votes)
Alcatraz (1%, 6 Votes)
Bent (1%, 5 Votes)
NYC 22 (1%, 5 Votes)
One Tree Hill (1%, 5 Votes)
GCB (0%, 1 Votes)
Total Voters: 715

Loading ...
Related Posts :