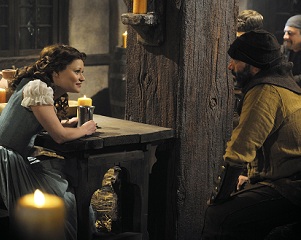 Far much more than a preview look at this coming Sunday's "Grumpy" episode (featuring Amy Acker and a reappearance by Emilie de Ravin's Belle), this article answers lots of huge questions about the show!
First, August is most likely not the author of Henry's book, but he did add stuff – for his own benefit. Is he trying to write himself into the story so he can be a part of the fairy tale world? Was he there before and somehow got written out?
Second, the show is trying to get the Huntsman (Jamie Dornan) back for a guest episode! While it's pretty unlikely he'll come back to Storybrooke, most of the fairy tale flashbacks we've seen so far occur while he's being held captive and heartless by the Evil Queen. Makes sense for him to show up in another flashback at some point.
Third, we'll learn why the Evil Queen hates Snow White in episode 18 (which IMDb says is entitled "Stable Boy"), set to air in April.
No real answers on when David and Mary Margaret will get together or who Henry's father is, so I'm guessing those won't come up until the end of this season or sometime next season.
Once Upon a Time Season 1 Episode Episode 14 Preview Eddie Kitsis & Adam Horowitz.
Related Posts :