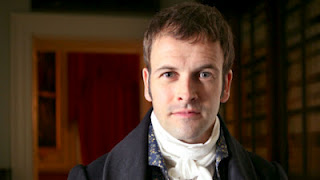 I've heard bits about Elementary, an American modern take on Sherlock Holmes (as opposed to the British modern take, Sherlock) for months, but they finally have cast the detective himself. Jonny Lee Miller (who I know from his playing the leading man in several Jane Austen adaptions) will be bringing the distinctly British legend to New York.
Some people are claiming it's a blatant rip-off of Sherlock. I think that it may be inspired by the show, but I'm kind of glad it's not a direct remake. Those type of shows (Being Human, The Office) usually take a season before they start being their own show. And two recent American remakes of British shows haven't succeeded very well (Free Agents, Prime Suspect).
For another thing, a modern reimagining of Sherlock Holmes has already been gracing US TV for 8 years. House turned the detective into an antisocial doctor fascinated by medical mysteries. It seems fitting that Elementary should get its chance as House is ending.
I'm not delusional in thinking that Elementary will live up to the greatness of Sherlock. But given that it takes a full year or more to get three 90-minute episodes of the British show, I think there's room for a show that explores Holmes' brilliance and idiosyncrasies on a more frequent basis. Plus Elementary will have a unique fish-out-of-water aspect if Holmes is a recent transplant to America.
Thanks to Ruth Anderson for the link!
Dan's Media Digest: ELEMENTARY, dear Jonny.
Related Posts :