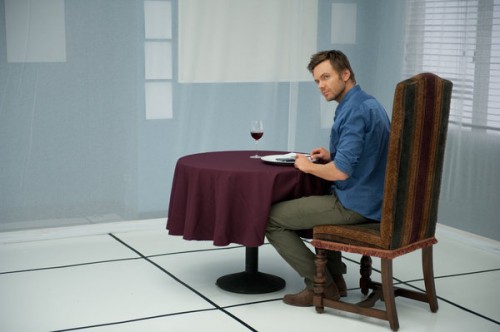 I fell in love with this unlikely comedy from episode one, and I'm looking forward to an amazing third season – even if they "have more fun and be less weird than the first two years combined." (Though, wouldn't that mean they could be more weird than either of the previous years, just not as much as both of them put together?)
Side note: I might have blogged about The Big Bang Theory instead today, especially since it had two episodes airing last night compared to Community's one, but I just wasn't impressed with its episodes. Too much raunchy stuff, reminding me that the show came from the same mind as Two and a Half Men. I really hope the rest of the season isn't like that.
"Biology 101" offered two weird glimpses in to the mind of Jeff Winger, beginning with the crazy music opening quoted above. Hilarious to think that Jeff daydreams in musicals. The second is a monkey-gas-induced trip into the power of the study group table – but more on that later.
And yes, there shall be spoilers!
Dean Pelton steps into his new role as regular cast member with a new adversary, his vice-dean, played by John Goodman. I'm not all that fond of the dean, so I hope he doesn't take over the show, but he's tolerable and even funny in small doses, like Senor Chang. I loved it when Chang emerged from the air vent and said, "Don't tell the monkey I live here."
And Pierce is back! For good it seems, thanks to the events of this episode. For a bit it seemed like he was back to his nefarious ways, but no, he seems to have improved over the summer. The fight over the spot in the biology class was fun, though, even with Jeff's weird vision of himself eating his cell phone and Pierce on his deathbed, still reaching for the study group table.
I like the new teacher. It's nice that it seems the group will be actually learning something this year, as opposed to the craziness of having Chang, Betty White, and Duncan as teachers in the past. He even got Jeff's attention, though admittedly, the reason Jeff paid attention is because he didn't want to lose his study group.
It's interesting, though – if the group needs the cohesiveness of taking the same class, does that make a fifth year of the show completely out of the picture? I just hope the ratings are good enough this year to at least get a fourth year and bring the series to a natural close.
A highlight of the episode is when Abed freaks out when he hears that Cougar Town won't come back until mid-season. Britta hopes to comfort him with the British version, Cougarton Abbey, but fails to mention it's only six episodes long. When the sixth episode of his "new favorite show" ends with everyone drinking hemlock, Abed becomes nearly catatonic. He finally snaps out of it when Britta introduces him to another British show that's been airing since the 1960s, Inspector Spacetime (a clear parody of Doctor Who).
And Chang gets a new job as a security guard for the college. I love Jeff's response to that: "Interesting. And this is the year we all die."
Related Posts :