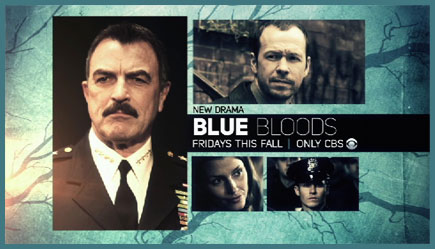 Blue Bloods, CBS's new crime drama, is one of the few shows I picked up this fall season. Too be honest, I wasn't sure that I needed one more crime drama on my plate, but I'd enjoyed Donnie Wahlberg in Rizzoli & Isles over the summer, so I decided to watch a few episodes before I made up my mind.
The show surprised me. The great acting and sleek presentation reminded me of ABC's Castle (which is currently tied with NCIS for my top crime drama, and is also set in New York City). But instead of Castle's humor and writing references, Blue Bloods chooses one distinctive quality to make it stand out from the crowd – family.
It's a quality that works extremely well, making the character-driven aspects of the show strong. It has also made the show thrive in the usually dead zone of Friday nights. While Blue Bloods has many elements that appeal to TV's prime viewing target range (18-34-year-olds), the family dynamic lets the show reach the heart of the people who are more likely to be home on a Friday night – namely, families.
Tonight's episode had a special treat – guest star Gloria Votsis, who plays Alex in the show White Collar.